SOLAR ENERGY SOLUTIONS FOR COMMERCIAL AND INDUSTRIAL OPERATIONS
Holistic solutions for electricity, heat and mobility for commercial and industrial enterprises
The foundation of our integrated range of solutions is the complete programme for electricity and heat. Grün leben GmbH offers selected products and systems that integrate the right energy sources in commercial and industrial environments.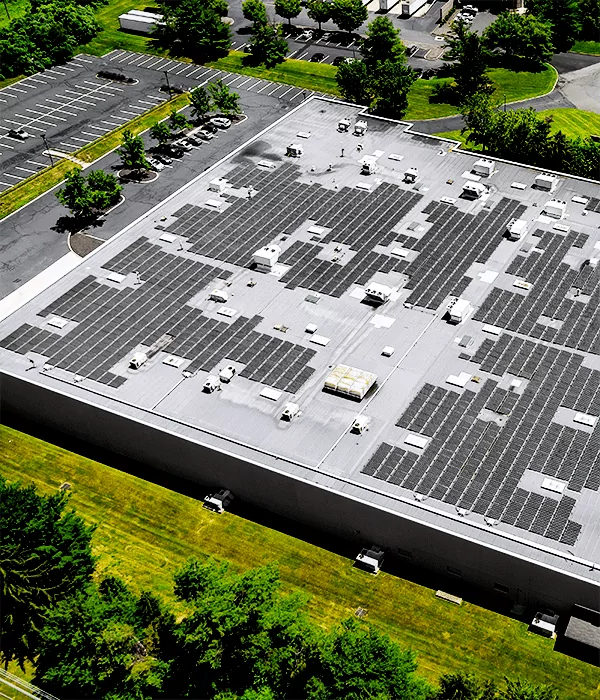 Create extensive electricity autonomy through very favourable self-consumption and avoid expensive electricity consumption during the most unfavourable hours of the day.
Realise effective peak shaving - which leads to noticeable cost savings.
Secure a reliable emergency power solution.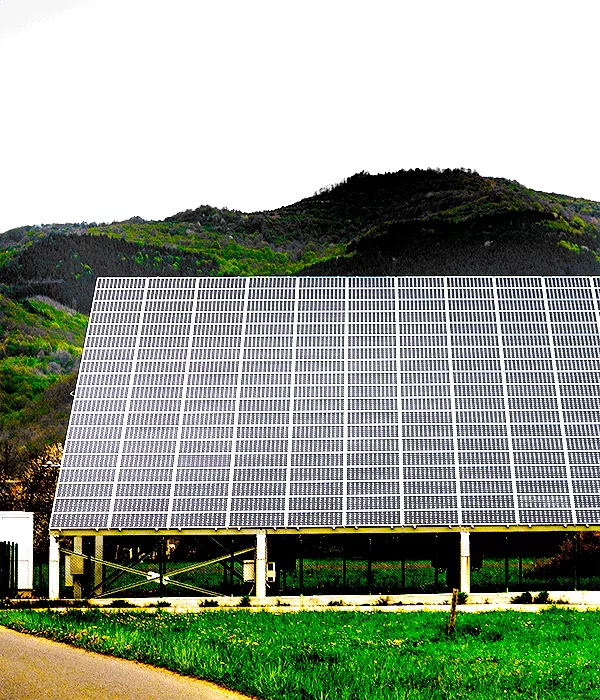 WITH GRÜN LEBEN GMBH TO GENERATE YOUR OWN ELECTRICITY AND HEAT FROM THE SUN
An asset on your roof: photovoltaics in industry and commerce
Unlike private households, businesses often have a constant demand for electricity during the day due to running production machinery, air conditioning, lighting and computers. This coincides with solar power, which is mainly generated from 8 am to 6 pm. Food markets, furniture stores, workshops, manufacturing plants, haulage companies, sawmills, dairy farms and other commercially used buildings have enormous roof area potential. By adding an electricity storage system, excess energy is not fed into the grid but stored. This can then be used in the evening and night hours when the PV system is not producing electricity. In this way, more of the self-produced electricity is used, i.e. self-consumption is increased.
In addition to self-supply optimisation, solar storage systems are also used for other purposes at the same time, for example to reduce the peak load of industrial operations and to increase the energy efficiency due to their emergency power function and black start capability.
However, in order to maximise self-consumption and avoid as many electricity costs as possible, the proportioning of the photovoltaic system/electricity generator, electricity consumption and electricity storage size must be right. Grün leben GmbH ensures this by carrying out technical feasibility and profitability studies. Our GL-ELECTRICITY Business Package Business Package offers companies for commercial and industrial use carefully selected solar ana- lgae products, solar storage systems and energy management solutions to balance grid electricity use and reduce energy costs. Our expertise in solar energy enables us to provide you with a customised, professionally designed andreliable solution. 
Advantages of photovoltaics for trade and industry
Sustainable heat generation for trade and industry
Our GL-HEAT Business Package couples a heat pump with an environmentally friendly solar thermal system. The latter covers part of the heat demand by solar energy, so that the heat pump has to run less over the year. This saves operating electricity, operating costs and greenhouse gas emissions.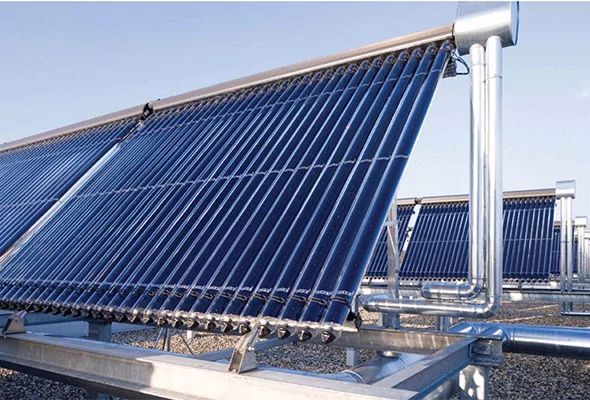 Solar thermal energy in commercial buildings
There is huge potential in the heat demand of industry and commerce, which in some cases offers better framework conditions for solar thermal than in the residential sector. Solar thermal systems are always particularly interesting where heat is needed at a relatively low level in commercial processes. On the other hand, the inclusion of solar thermal systems in commercial processes often offers very favourable heat prices. For example, if a solar system feeds directly into a process with a continuous heat demand, storage tanks and some other components can be omitted. If the system is also publicly subsidised, this can result in very attractive payback periods.
For an economically optimised planning of a solar system, the Grün leben GmbH experts analyse your needs, dimension the solar system so that the amount of energy generated can always be sensibly fed into the process and plan the integration of the solar system into the heat supply so that the entire process chain can run as usual independently of the solar system.
With collector technology available on the market (except for concentrating systems), heat up to about 80 degrees Celsius can be sensibly provided by solar thermal in Central Europe.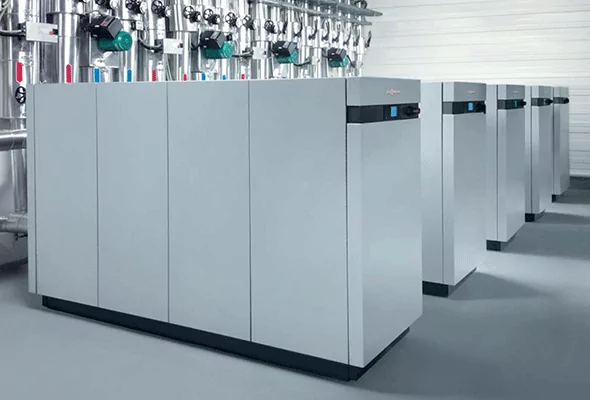 The energy, heating and cooling requirements of commercial and industrial facilities are sometimes significantly different from those of private detached and semi-detached houses. A special form of heat pump operation is the so-called cascade connection. This promises efficiency advantages in the case of variable power requirements. Heat pumps are linked or connected in series in such a way that the power spectrum can be flexibly adapted to the respective heating or cooling demand and its natural fluctuation. This largely increases the efficiency of the heating system and the cost-effectiveness of a cascade system compared to a bivalent heat pump system. In addition, more renewable energies are used compared to a bivalent system.
If a building is both cooled and heated, the heat pumps within a cascade can be used individually for heating or cooling, or together for heating and cooling. It should be noted that state subsidies can be applied for each individual heat pump in a cascade.
Our large heat pumps with outputs of up to 600 kW are suitable for industrial applications, large residential and office buildings and hotels, among others.
Solution concept for commercial enterprises and industry
Generate and optimally use your own electricity from solar energy
Store the surplus solar power for self-supply optimisation, peak load capping and emergency power supply.
Manage energy flows, automatically identify and enable potential savings.
Offer your visitors, customers and employees the possibility to charge their electric cars.

Heat with solar power and operate the heat pumps.
Large-scale heat pump with free solar heat supported by solar thermal system.
Combination of photovoltaics and electromobility
GL-ELECTRICITY Plus Business-package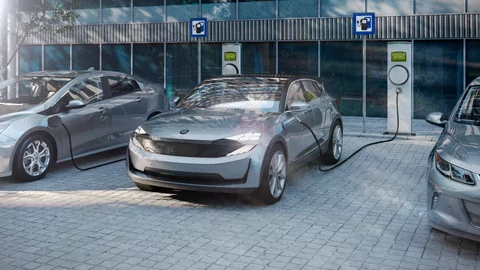 By converting their vehicle fleet to e-mobility, companies make a valuable contribution to the local energy transition. From a technical point of view, an electrically powered vehicle is a flexible electricity consumer with a high power demand. This high power demand initially has an influence on the electricity costs of the business, because in commercial enterprises the electricity costs depend not only on the amount of electricity consumed, but also strongly on the maximum power drawn (load peaks)
Together with a good charging management system, the direct use of solar power for charging e-vehicles in PV self-supply systems can help to optimise the load profile of the farm, avoid load peaks and thus ultimately reduce costs.
There are three usage variants for companies, which
differ in legal, economic and technical terms. Provided: the charging stations are owned and operated by the company and these are located on the same company premises as the PV system and the battery storage (owner model).
Charging e-vehicles with PV-owned electricity serves to increase the self-consumption quota of the PV system or the company's own degree of self-sufficiency.
Option 1 Only company-owned e-vehicles are charged.
Option 2 Company-owned e-vehicles and private employee vehicles are charged.
Option 3 Company-owned e-vehicles, employee vehicles and customer vehicles are charged.
THE COMBINATION OF E-MOBILITY AND PV SYSTEMS
ADVANTAGES OF COMBINING
E-MOBILITY WITH YOUR OWN PV ELECTRICITY
E-vehicles can be charged directly with your own PV power
during the day
- The combination of e-mobility and PV systems can help to optimise the farm's load profile, avoid peak loads, and thus reduce costs.
- With a stationary PV storage system, use can be shifted to the evening and night hours.
- Companies gain independence from external
such as fluctuating electricity prices or uncertain
fuel prices.
- Companies can load their company-owned vehicle fleets
cost-effectively and at prices that can be calculated over the long term.
- Companies make a valuable contribution to the local energy transition.
- Combinations of PV power generation and e-mobility can form an important building block for a comprehensive corporate sustainability strategy.
- The conversion to e-mobility in company fleets makes it possible to fundamentally question and optimise company mobility
Request your personal and non-binding quote now!
You want to generate your own Electricity und Ihre eigene Heat from solar energy? Here you will find your customized photovoltaic and solar thermal system also in combination with heat pump and Electric mobility charging device.
Steps to your own PV system and RE hybrid heating system
The following simple steps will lead you to your own photovoltaic system and RE hybrid heating. With us, you get a turnkey e-energy system from a single source.
Together we will clarify in a non-binding initial meeting which solution is the right one for you and answer all your questions.
PROFITABILITY CALCULATION
We calculate your plant and perform a complete economic analysis to help you make a decision
You will receive an individual offer from us. After placing the order, we arrange an installation date and register your system with the grid operator.
DELIVERY AND INSTALLATION
We bring the selected components directly to your home or construction site and have your PV and solar thermal system, as well as heat pump and, if necessary, electrical charging equipment installed by master craftsmen from the region.

We document the data of your PV system and create a commissioning report, which secures your feed-in tariff, your warranty claim against the manufacturers and serves as proof for the insurance.

Would you like personal advice?
Arrange your desired appointment easily and conveniently here.
Our customer consultants have a high level of expertise and a lot of experience and can provide you with the best possible advice on technical and economic issues when planning your plant.